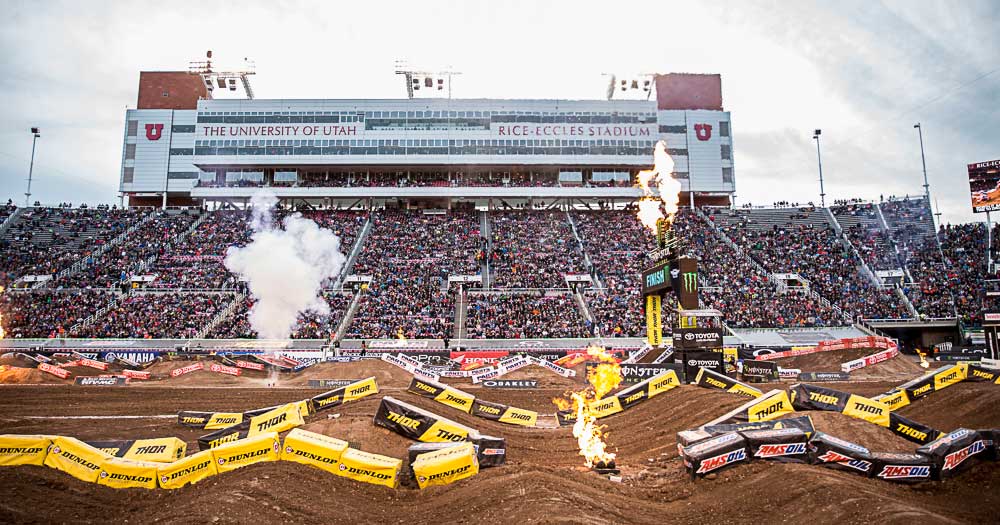 SuperCross: Transportation Impacts
---
On April 24 and May 1, 2021, the Utah Sports Commission and Feld Entertainment, Inc., will host the Monster Energy AMA Supercross finals at Rice-Eccles Stadium. During this two-week span, several road closures are required to ensure proper spacing between race team vehicles along the roadway and those in the Guardsman Way parking lot and surrounding university lots.
Road impacts and closures
500 South will be closed from Friday, April 23 at 9 p.m. to Sunday, April 25 at 6 a.m., and from Friday, April 30 at 9 p.m. to May at 6 a.m. Additionally, Guardsman Way will be closed on April 24 and May 1.
Westbound detour options
Commuters wishing to exit or enter campus have the following options.
OPTION 1:  South Campus Drive eastbound or westbound to either 1300 East or Mario Capecchi.
OPTION 2:  Turning left on Mario Capecchi Drive and Foothill Drive to bypass the impacted area.
OPTION 3:  Utilizing North Campus Drive to bypass avoid the area completely.
All detour plans have been reviewed and approved by Salt Lake City and UDOT mandates. Additionally, U of U Health, Primary Children's Hospital, the VA Hospital, UTA and other emergency services have received copies of these plans.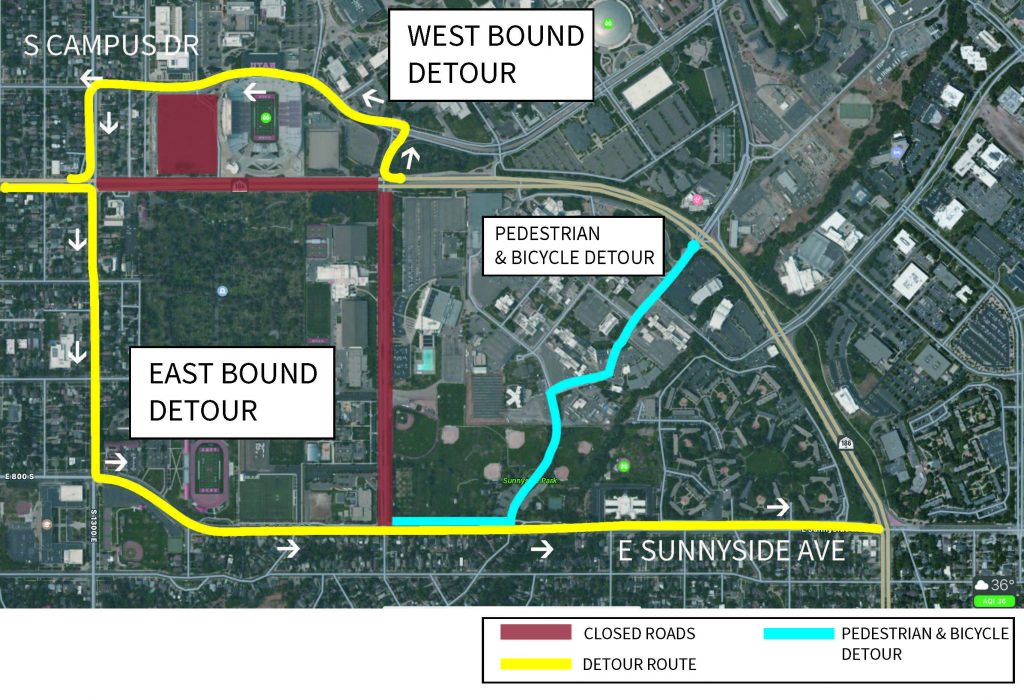 Race day bus, pedestrian and bicycle detours
Guardsman Way roadway and sidewalks will remain open during weekdays. The detour seen in the image below will only be in effect on Saturday, April 24 and Saturday, May 1. 
This Supercross event requires a closed fence line to be in place and a ticket to access the interior event space including the north section of Guardsman Way and 500 South. On Saturdays, April 24 and May 1, Guardsman Way will be closed to through traffic all forms of transportation. Cyclists and pedestrians can avoid the impacted area on these race day Saturdays by utilized the following path through the V.A. Hospital Campus and Sunnyside Park.
For those utilizing the UTA bus system, plan your trip here.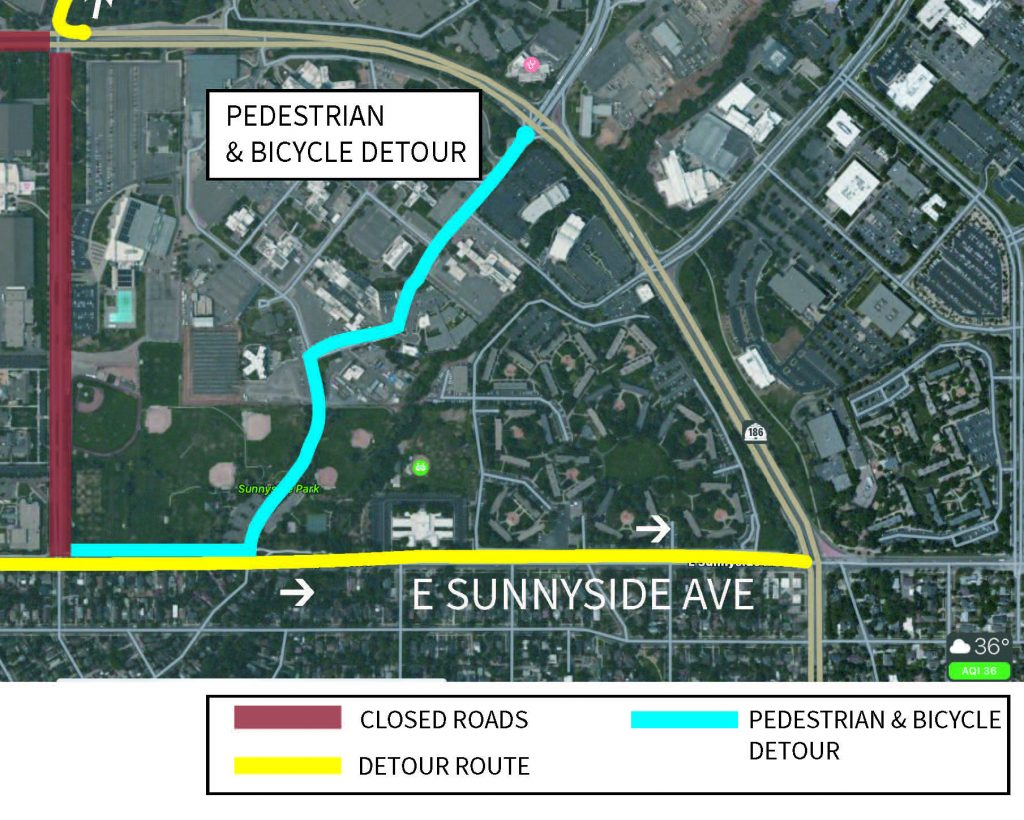 Event footprint and race day closures
April 24 and May 1 race day closures will be similar to those of recent U Athletics football game days. A fence line will enclose the entire area seen below and tickets are required to gain access to the roadway between Rice-Eccles Stadium and the Guardsman Way parking lot. Again, race-day road closures will take place the evenings of Friday, April 23 and Friday, April 30, 2021, and will reopen at midnight the following Sundays.
Closures on 500 South will be from Guardsman Way to 1300 East. Guardsman Way closures will be from 500 South to just about the entrance of the Steiner Recreation Center. Parking attendants will be in place on race days to ensure proper use of the Steiner Recreation Center parking spaces for the community.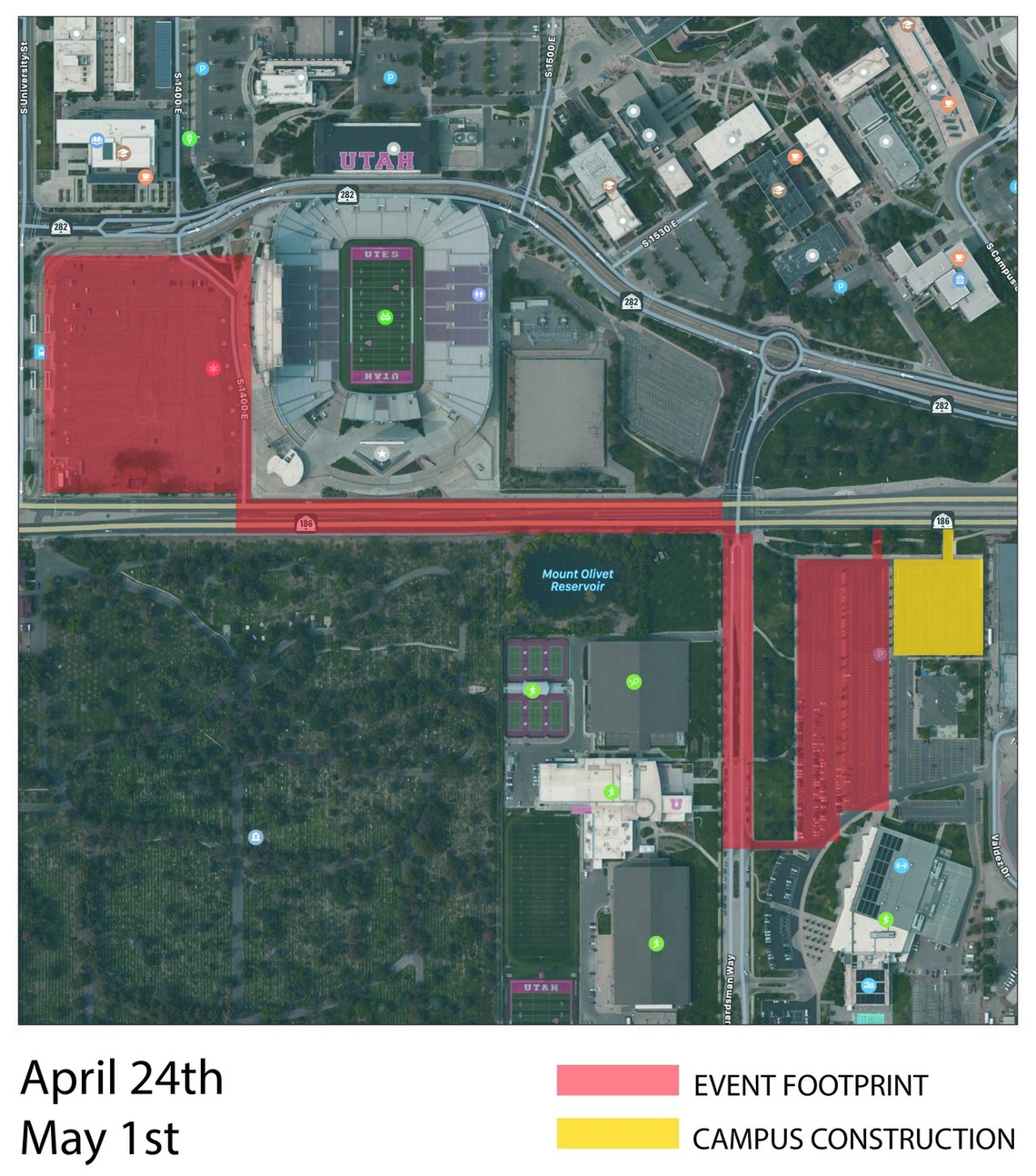 Parking impacts
Stadium Lot (Lot 1): Closed April 19 through May 2.
Chemistry Lot (Lot 4), Marriott South Lot (Lot 5), Marriott Library Lot (Lot 6): These lots will be designated for VIP and working staff on April 24 and May 1. 'A' and 'U' permit holders may park in these lots during non-race days.
East Stadium Lot (Lot 9): Closed from April 20 to May 2.
Social Work Lot (Lot 8), Sculpture Lot (Lot 10), Central Garage (Lot 11), Business Lot (Lot 12) and LDS West Lot (Lot 18): Designated for Supercross guests on April 24 and May 1.
LDS East Lot (Lot 19): Contractors permitted to park in the Stadium Lot and the Guardsman Lot must park in the LDS East Lot from April 19 to May 2.
Guardsman Lot (Lot 40): Closed April 19 to May 2.
Shoreline Garage (Lot 81): Ozone permit holders will be relocated to the Shoreline Garage from April 19 to May 2. Additionally, the Campus Shuttle's Ozone Route will detour to the Shoreline Garage.