The Commuter Services Transportation Dashboard is an interactive tool that helps present various forms of relevant transportation data to the University of Utah community. The goal of this dashboard is to provide the University of Utah community with more information about how Commuter Services is pushing to accomplish our goals and the overarching goals and mission of the University to optimize transportation to, from, and on campus. Please click through the below tabs to learn more about permit sales, changes to campus parking, transportation mode statistics, funding and expenditures, our plans and studies, and more.
Parking (historical map images/gif goes here)
Parking at the University of Utah is constantly changing as our campus grows and develops. U parking typically makes up just under 50% of the permit parking on campus, though during the pandemic we temporarily shifted about 10% of the U parking stalls to A to better accommodate the essential staff keeping our campus operating smoothly.
Overall, the parking stall distribution at the University of Utah is constantly being adjusted to meet the needs and demands of our commuters.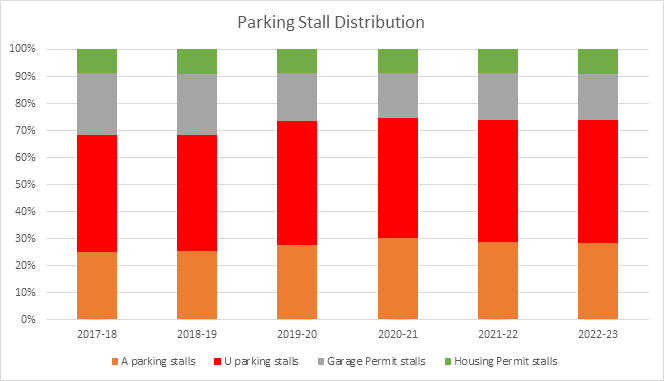 The number of active parking permits follows a similar ratio to that of our parking. The U permit provides access to the largest number of parking spaces throughout campus, rendering it a highly attractive choice for students, staff, and faculty members alike. The historical popularity of U permits across out campus community is evident through the figures below. When compared to the permit types available, including A permits, garage permits, housing permits, and reserved permits, it is clear that the U permit's value cannot be beat.
The onset of the COVID-19 pandemic had a significant impact on the number of both U and A permits during the 2020-21 period; however, there has been a subsequent recovery, with the number of active permits approaching previous levels. This reduction in demand and subsequent rebound has been felt most strongly by our undergraduates who started their college career during this period. While they enjoyed ample parking for their first couple years, we have returned to the status quo where convenient parking is scarce.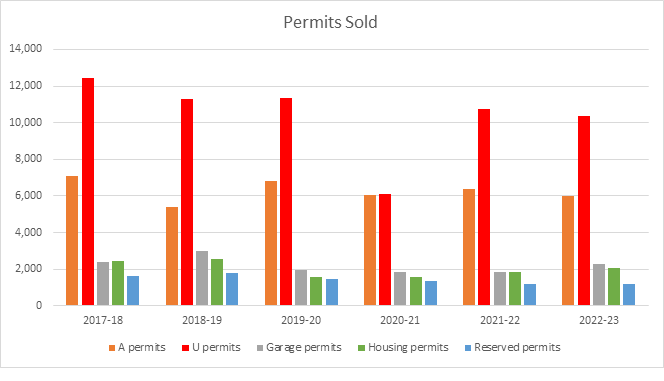 Capacity vs. Availability
When we look at the above information together, you can see below that despite the number parking stalls being outnumbered by the active permits, parking remains available. This is due to the transient nature of parking on campus. Many students are not on campus for the entire day, creating an ongoing turnover of parking across campus. Both the amount of parking and permits have seen significant changes during this span as campus continues to grow and expand. As expansion continues, we will continue to see changes and new trends.