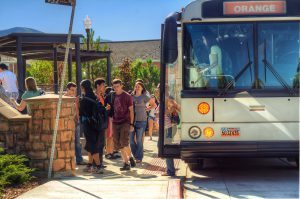 Welcome
---
Whether you travel by bus, train, car, bike or foot, we at Commuter Services work to ensure your campus commuting experience is a good one. Get up-to-date information on our network of commuter pathways, purchase a parking permit or plan for special events—it's all here. Start by selecting your method of transportation below and get moving.
Commuter and Construction Updates
---
UTA Change Day – April 5, 2020

UTA will add, adjust and expand bus service across the region. Take a look at the changes going into effect on April 5, 2020.Visit the UTA website to learn more about April 2020 Change Day.

Wasatch Drive impacts

Wasatch Drive will be closed beginning Monday, March 23. Access to the Eccles Broadcast lot will still be open on the north end through the roundabout. The middle entrance to Eccles Broadcast will be open for deliveries and trash removal, but not for day-to-day vehicles. Street parking on Wasatch Drive and access to the Soccer

Transportation adjustments due to COVID-19

We are making the following transportation-related changes in an effort to slow the spread of COVID-19 and to ensure the health of our university community.