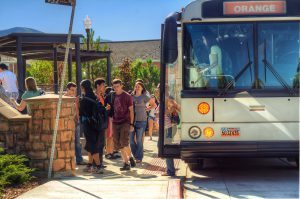 Welcome
---
Whether you travel by bus, train, car, bike or foot, we at Commuter Services work to ensure your campus commuting experience is a good one. Get up-to-date information on our network of commuter pathways, purchase a parking permit or plan for special events—it's all here. Start by selecting your method of transportation below and get moving.
Commuter and Construction Updates
---
Employee Appreciation Day impacts at Guardsman Lot

Rows 1 through 4 in the Guardsman Lot will be unavailable on September 25. This space will be used to accommodate for the Employee Appreciate Day flu shots tents. Motorists must enter the parking lot through Guardsman Way and exit through 500 South.

Vice Presidential Debate Campus Shuttle Impacts 

In preparation for the Vice Presidential debate, the Circulator and Blue routes will not stop at President Circle from Wednesday, Sept. 16 to Thursday, Oct. 8. Shuttle passengers will be picked up and dropped off at the UTA bus stops on University Street from Wednesday, Sept. 16 to Friday, Sept. 25. 

Sewage upgrade project on 1300 East

Due to the sewage improvement project on 1300 East (between 400 & 500 South), up to two northbound lanes will be closed for 12 weeks. Motorists traveling southbound will not be able to turn left on 500 S.