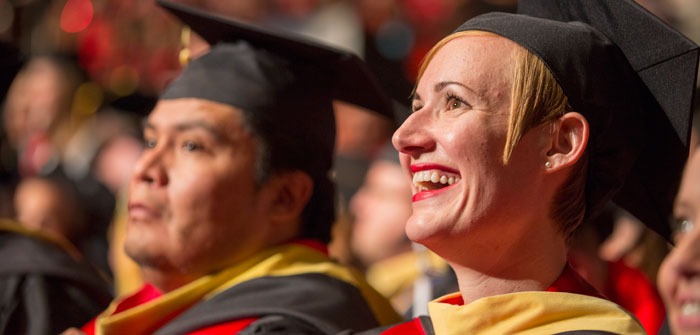 convocation ceremonies: Transportation Impacts
---
Graduation is a time to celebrate — not a time to worry about where to park your car, motorcycle, or bicycle on campus. Convocation attendees can save time and avoid stress by familiarizing themselves with the transportation impacts that will take place from May 6-8.
Additionally, guests and graduates can find walking directions and detailed information on all parking and transportation choices by visiting the Campus Map. Planning your commute to campus ahead of time will enhance the ceremonial experience for all.
Vehicle Lane Closures
At the intersection of 500 S and 1300 E, the east and westbound vehicle turn lanes will be closed from May 6-8. Adjacent sidewalks and crosswalks will remain open to pedestrians and cyclists.
Though this road impact is relatively minor, motorists can expect police personnel to direct traffic at several intersections across campus during convocation ceremonies.
Vehicle Parking for Graduates and Guests
Graduates and guests may park on campus for free during convocation ceremonies. Attendees are highly encouraged to park their cars in the designated lots assigned to each college ceremony to ensure parking availability for everyone.
Attendees for the College of Humanities, College of Business, College of Social and Behavior Science, College of Health (graduate program), College of Engineering may park in the following lots:
Stadium Lot (Lot 1)
Law (Lot 2)
Attendees for the College of Science, College of Nursing, College of Health (undergraduates), College of Fine Arts, College of Social Work, College of Education may park in the following lots:
Chemistry Lot (Lot 4)
South Marriott Lot (Lot 5)
Marriott Library Lot (Lot 6)
Social Work Lot (Lot 8)
East Stadium Lot (Lot 9)
Attendees for the College of Cultural and Social Transformation, College of Architecture + Planning, College of Mines & Earth Sciences may park in the following lots:
Hospital East Lot (Lot 66)
Red Butte Lot (Lot 75)
Shoreline Garage (Lot 81)
Overflow Parking:
Guardsman Lot (Lot 40)
LDS West Lot (Lot 18)
LDS East Lot (Lot 19)
LDS Garage (Lot 15)
Huntsman South Lot (Lot 20)
LDS Stake Center Lot (Lot 21)
Business Lot (Lot 12)
Central Garage (Lot 11)
Huntsman West Lot (Lot 14)
Presidents Circle Lot (Lot 35)
Huntsman East Lot (Lot 22)
Vehicle Parking for Faculty and Staff
Faculty, staff and students are especially encouraged to avoid bringing their vehicle to campus and instead ride public transportation or bicycle to work. However, those who must drive a vehicle to campus may park in one of the designated overflow parking lots (listed above) from May 6-8.
Healthcare employees who typically park in the Hospital East Lot (Lot 66) or the Shoreline Garage (Lot 81) can expect limited parking availability from May 6-8. As an alternative, healthcare employees may park in the Guardsman Lot (Lot 40) and ride the O-Zone Campus Shuttle route to the main hospital.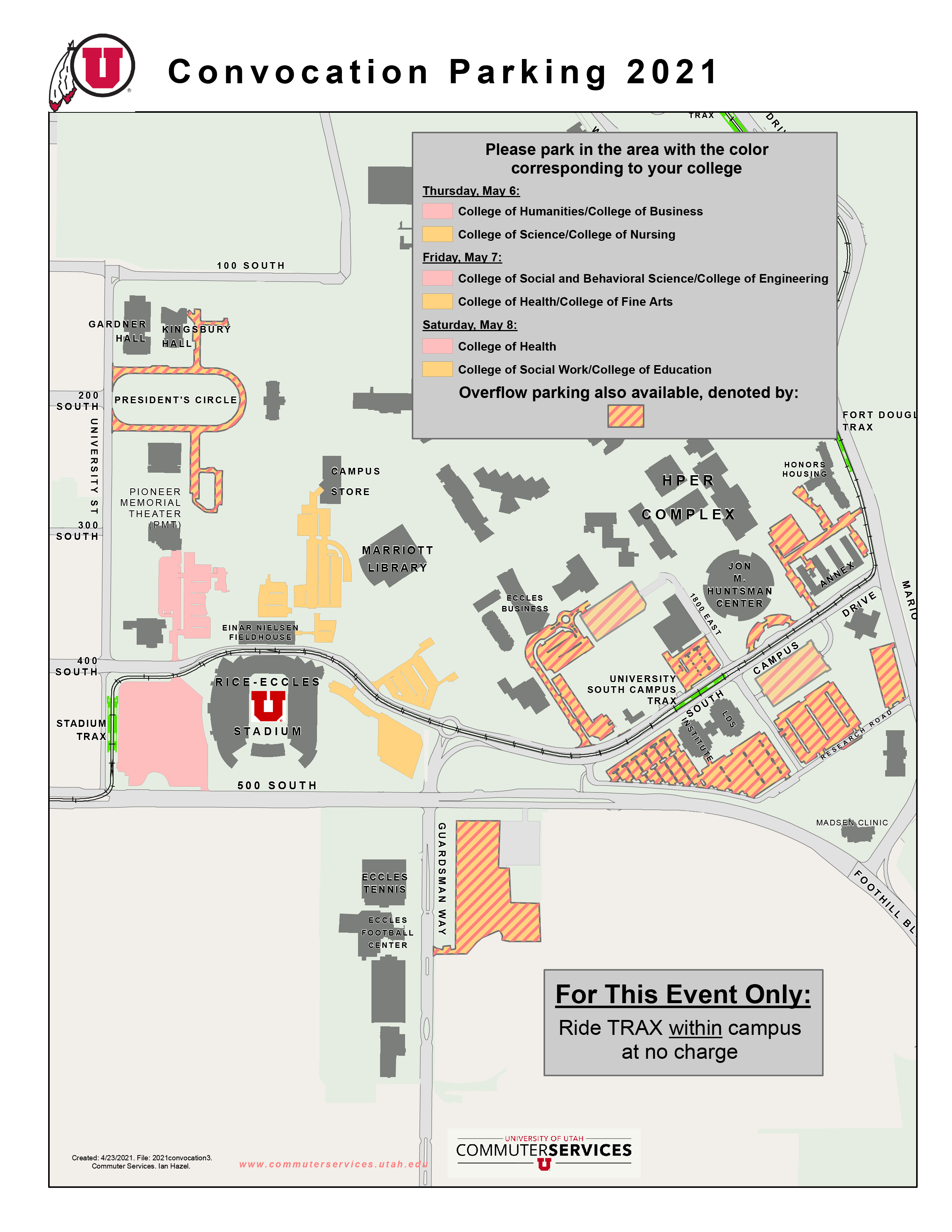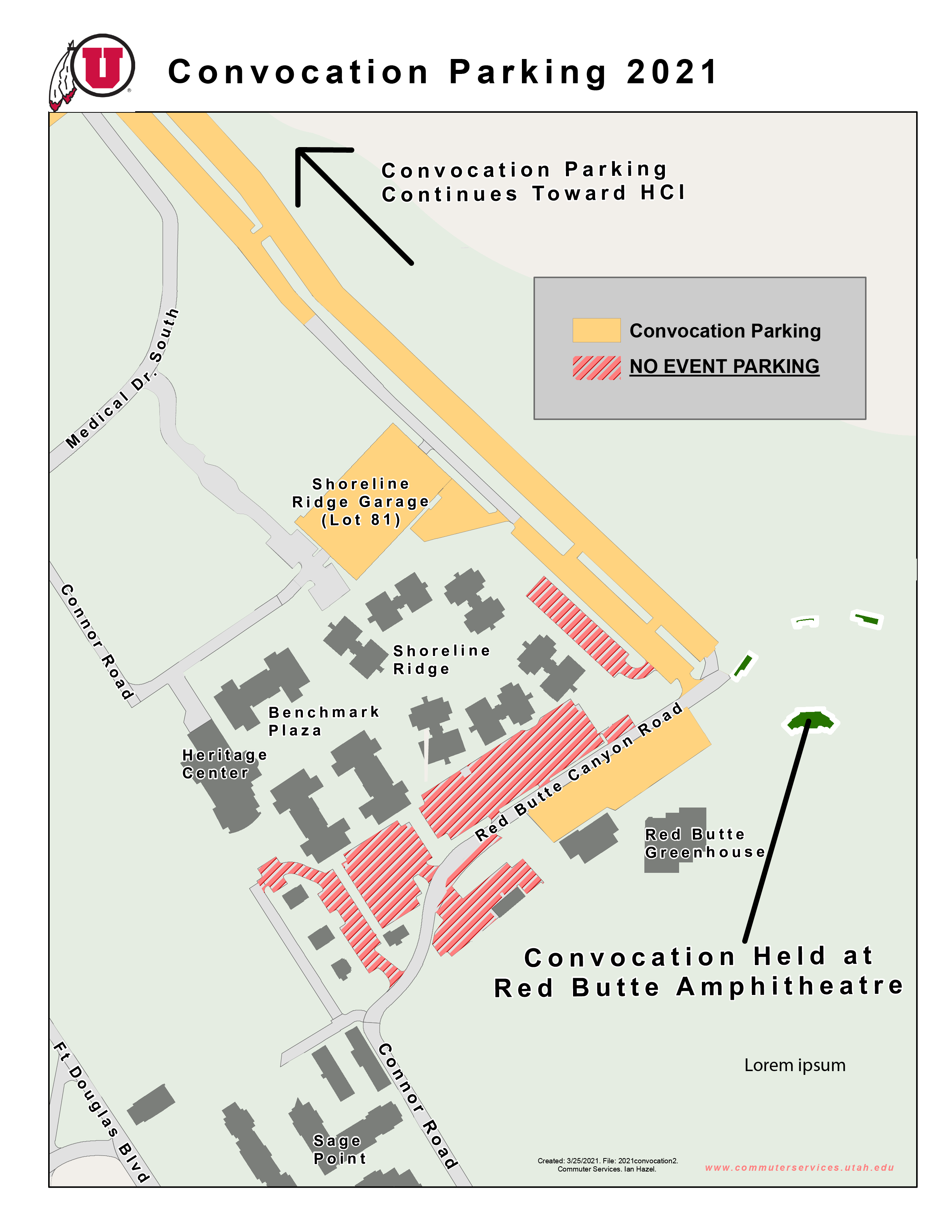 Bicycle Parking
All attendees and faculty, staff and students may park their bicycles on campus for free. To find indoor and outdoor bicycle parking near your destination, select the 'Transportation' menu on the Campus Map.
Campus Shuttles
Attendees are welcome to ride the Campus Shuttles for free. The temporary Convocation Route will travel through South Campus Drive to the Rice-Eccles Stadium, LDS Institute, Business Loop and social work areas. Visit uofubus.com track all shuttle routes live.
Public Transit
UTA buses that travel through the intersection of 500 S. and 1300 E. will follow detour routes. Visit rideuta.com to learn more about bus detour routes.
Graduates and guests attending convocations ceremonies can easily avoid vehicle parking stresses and traffic delays by riding UTA TRAX. Attendees going to the Rice-Eccles Stadium can ride TRAX directly to the Stadium station.
Questions?
For more parking and transportation information, contact Commuter Services at 801-581-6415 Monday through Friday from 8 AM to 4:30 PM.