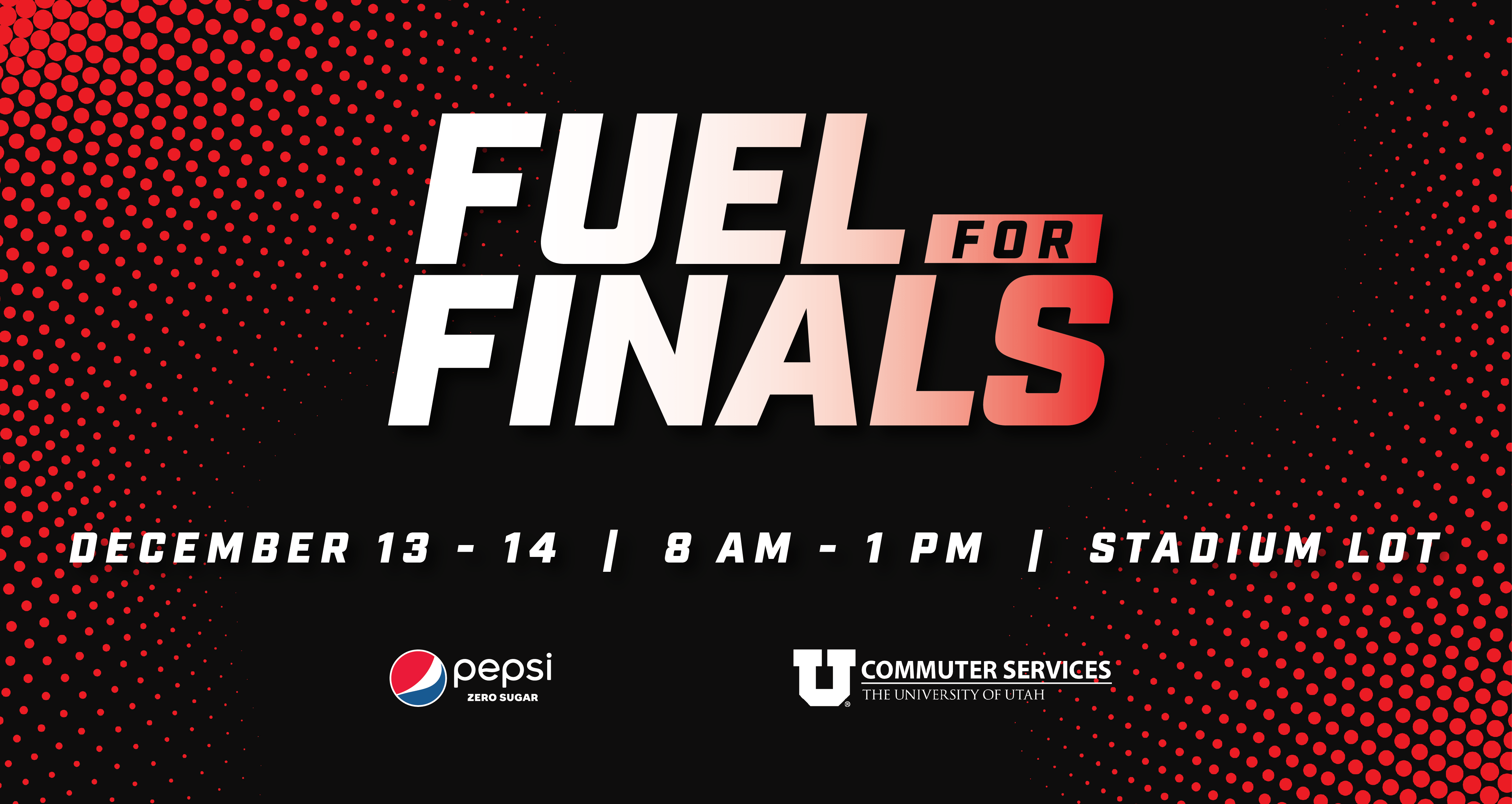 Fuel for Finals
---
Before taking your final exams, make a pit stop at the Fuel for Finals event on December 13 and 14 from 8 AM to 1 PM. Stationed in the newly-constructed Pepsi Trailer at the Stadium Lot, Commuter Services will provide students with free drinks and snacks. Thanks to our sponsor, Pepsi Co., energy drinks and other caffeinated beverages will be available for students who need an extra boost. Commuter Services will also serve snacks to ensure test-takers aren't running on empty (stomachs).
In addition to free snacks and drinks, Commuter Services will continue to offer the following transportation options during finals week:

SafeRide
For many students, finals week is not complete without a late-night study session on campus. Students who feel uncomfortable walking at night can request an on-demand ride to and from most locations on campus. SafeRide only operates within the university boundaries on weeknights from 6 p.m. to 12:30 a.m. Students must request a SafeRide through the TransLoc app, available on the App Store and Google Play

U After 3 Parking
Students with U permits may park in designated A permit parking lots after 3 p.m. This allows students with exams scheduled later in the day to park in lots closer to main campus during evening hours. Not all lots have this accommodation, so please read posted signage carefully. Check out the map of parking lots that allow 'U' permits after 3 p.m

Short-Term Parking
If you don't have a parking permit, but would still like to park on campus during finals week, try one of the following short-term parking options:
Day Pass: A Day Pass allows you to park in a 'U' or 'A' lot for a day. The Day Pass price ranges from $5 to $16, depending on the time of day you'd like to park. Purchase a Day Pass online through the Parking Portal.
Kiosk lots: Students may pay the $2 hourly rate to park in the Union Lot, Marriott Library Lot, Business Lot or Student Life Center Lot. Visit the kiosk machines located within these lots to begin a session. You may also pay for your parking session directly on your phone by scanning the QR code displayed on the kiosk machine.
PayByPhone stalls: Students may pay the $2 hourly rate to park in PayByPhone stalls located in several lots on campus. Download the PayByPhone app to find a stall and begin a session.   
Campus Shuttle
The Campus Shuttles transports students to popular locations on campus, including the Union, residential areas, UTA bus stops and TRAX stations. This free service is available to all students. The Blue, Orange, and Circulator (previously known as the Night Route) shuttle routes will continue regular service throughout finals week. Visit uofubus.com to track all shuttle locations live, view estimated arrival times, and find the nearest stops.

Ride UTA
Students can avoid the stress of parking and driving by riding UTA instead. The TRAX Red Line and several UTA bus routes come directly to campus making public transportation accessible to students in the Wasatch Front.

Call (801) 581-6415 to learn more about parking and transportation options available on campus.