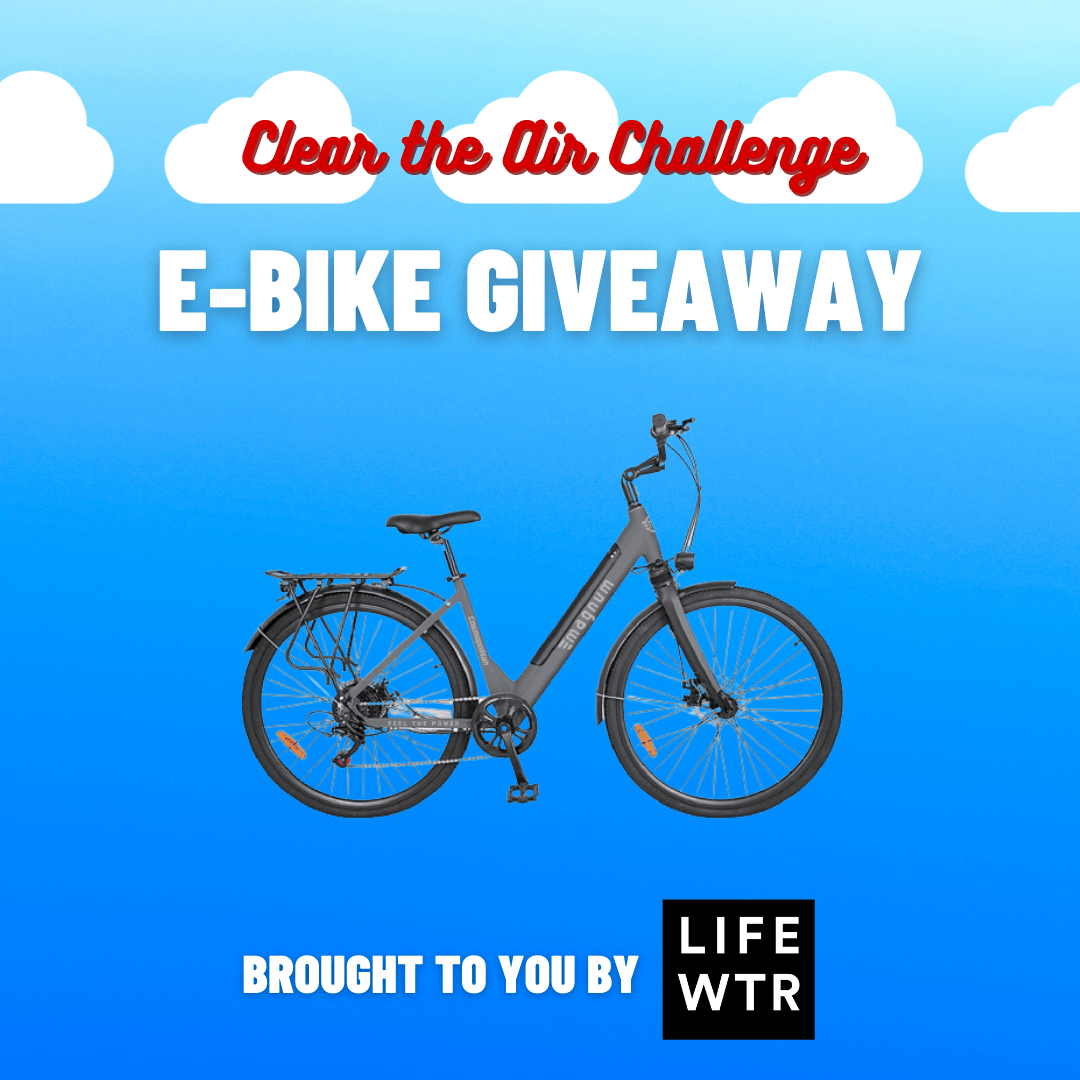 Win an e-bike sponsored by lifewtr
---
The way we commute affects the air we breathe. Utah residents are no strangers to the inversion season, and many of us are well aware that vehicles are major contributors to pollution over the Salt Lake Valley. To combat the unfavorable effect of poor air quality, we ask the campus community the join the University of Utah's Clear the Air Challenge team.
The month-long competition gives you the chance to reduce your vehicle emissions by choosing alternative modes of transportation. You can help the U team win by logging your sustainable commutes, like walking, biking, riding public transit and even telecommuting.
The competition ends this month, so we must act fast. As a final push, Commuter Services partnered with Pepsi to host a Magnum E-Bike giveaway exclusively for the Clear the Air Challenge participants.
Follow these two steps for a chance to win a Magnum E-Bike sponsored by LIFEWTR:
Click here to join the University of Utah's Clear the Air Challenge team
Click here to log your trips through the TravelWise Tracker
Learn more about the types of trips you can log for the Clear the Air Challenge:
Active Transportation Trips
Walking, biking, scooting, skateboarding and roller-skating are all modes of active transportation. Does your bike need some work? Visit the Campus Bike Shop, located on 413 Central Campus Drive, to ensure your bike is in tip-top shape.
Public Transit Trips
University students, faculty and staff members may ride UTA buses, TRAX and FrontRunner trains at no additional cost. With four TRAX stations and several bus stops located directly on campus, riding UTA is easy and accessible.
Teleworking
Logging your trips doesn't necessarily mean you have to travel. You can also log a trip for each day you work from home. The several university employees who work from home regularly can easily participate in the competition.
Other Strategies
Visit the TravelWise website to learn more about the other commuting strategies, like carpooling, trip-chaining, skipping trips and more.
Using these modes of transportation will help you save money on gas, parking and car maintenance, reduce CO2 emissions and ease traffic congestion. By driving less and driving smarter, you will ultimately improve air quality and conserve energy in Utah.