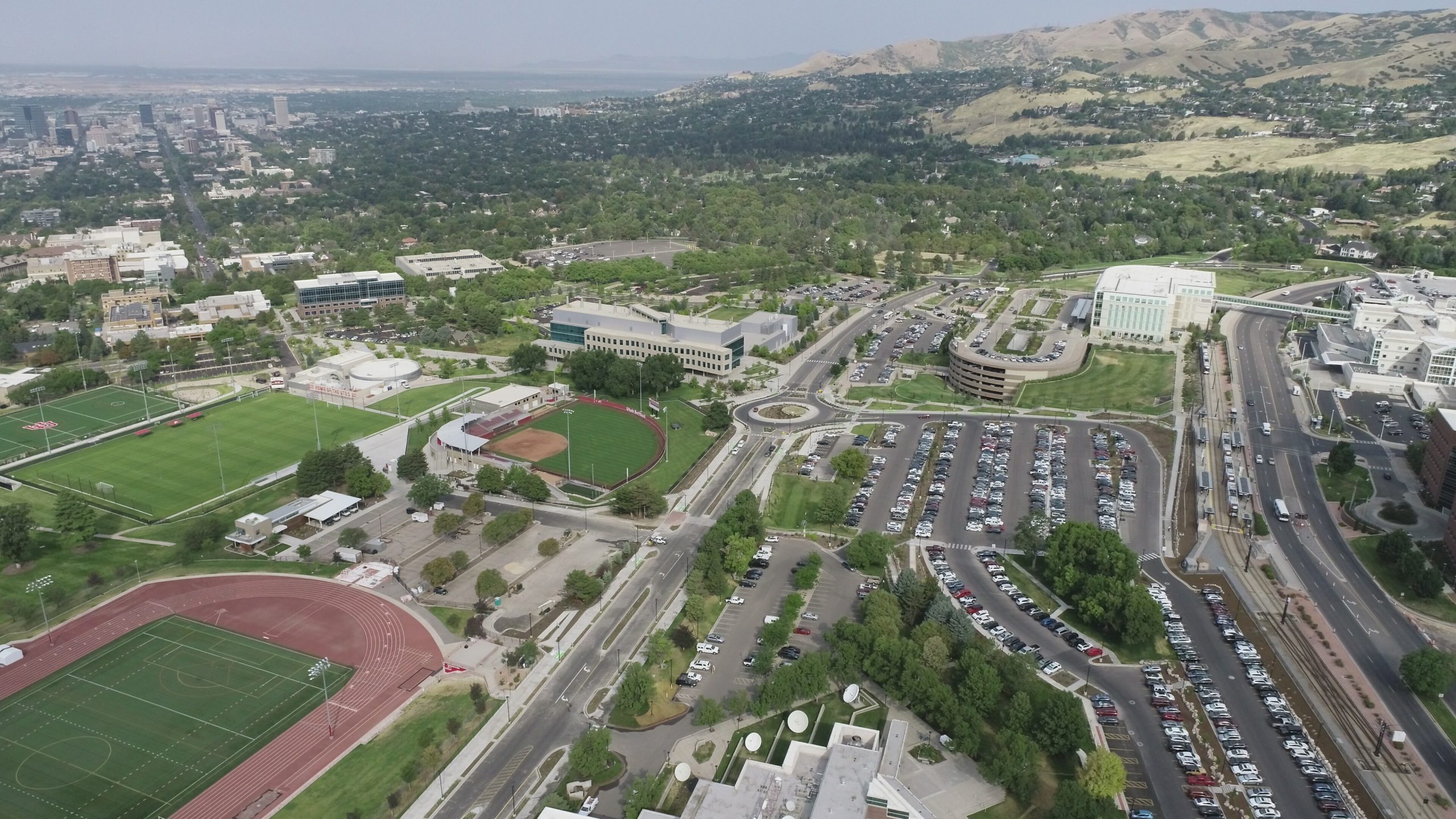 Fall 2021 Commuter Guide
---
As the University of Utah welcomes students back to campus, many incoming freshmen and sophomores may have questions about commuting. Rather than feeling overwhelmed, take a deep breath and rest assure that Commuter Services is here to help you understand your transportation options. So, whether this is your first or hundredth time coming to campus, here's everything you need to know about commuting to the U this fall.
UTA
Parking at the U is a challenge due to the dense population on campus. However, students can avoid the stress of parking and driving by riding UTA instead. Your UCard serves as an unlimited pass to ride UTA buses, TRAX and FrontRunner trains at no cost. Don't forget to use your UCard to tap on and off the card readings on the buses and train platforms when boarding and existing. 
Riding UTA to the university is easy. The TRAX Red Line and several UTA bus routes come directly to campus making public transportation accessible to students in the Wasatch Front. Additionally, commuters using multiple modes of transportation may bring their bicycle or personal scooter on buses and trains. Download the Transit app to find a route that works for you. 
According to the Federal Transit Administration (FTA), passengers must wear face masks on public transit until September 13, 2021.
SafeRide
SafeRide is a transportation service that enhances safety during night hours. Students who feel uncomfortable walking at night can request an on-demand ride to and from most locations on campus. SafeRide functions similarly to other rideshare programs like Uber or Lyft but only operates within university boundaries on weeknights from 6 p.m. to 12:30 a.m.
The SafeRide program switched to different service provider and will no longer operate through the TapRide app. Passengers must request a SafeRide through the TransLoc app, available on the App Store and Google Play. Visit the SafeRide page to learn more about requesting a ride through the TransLoc app. 
Parking Permits
Students who park a vehicle on campus long-term or daily should purchase a parking permit. There are a few factors to consider when deciding which parking permit to purchase. Are you living on or off-campus? Where would you like to park? What is your budget? Your answer to these questions will help you determine which parking permit best fits your needs.
Here's a breakdown of the most common parking permits for students:
U Permit: 

The 'U' permit is the best and most affordable option for students living off-campus. This permit allows students to park in various 'U' lots across campus and in designated 'A' lots after 3 p.m.

HU Permit: 

The 'HU' permit allows residential students to park overnight in housing lots. This permit is also valid in 'U' lots. Be aware that overnight parking is not allowed in certain 'U' lots.

HCU Permit: 

The 'HCU' is similar to the 'HU' permit but comes with extra perks. In addition to parking in the housing lots, the 'HCU' permit is valid in the Central Garage, the Lassonde Studio Lot and 'U' lots.

CU Permit: 

The 'CU' permit is available to all students. With this permit, students may park in the Central Garage, the Lassonde Studio Lot and 'U' lots. 
Visit the Student Permits page to view prices, purchasing details and other parking permits.
'U' AFTER 3 P.M. PARKING
Students with 'U' permits may park in designated 'A' parking lots after 3 p.m. This option allows students to park in lots closer to central campus during the evening. However, not all lots have this accommodation, so please take care in reading the signage posted in each lot.
Students with 'U' permits may also park in designated stalls in the Marriott Library and Union kiosk lots after 3 p.m. Not every stall in these lots allows 'U' permits, so read the signs carefully.
Check out the map of parking lots that allow 'U' permits after 3 p.m.
SHORT-TERM PARKING
Students enrolled in a combination of in-person and online classes have different parking needs and may prefer short-term options rather than semesterly permits. Commuter Services offers the following short-term parking options:
 

Day Pass:

A Day Pass allows you to park in a 'U' or 'A' lot for a day. The Day Pass price ranges from $5 to $16, depending on the time of day you'd like to park.

This option is ideal for students who need to park on campus a couple of days a week. Students may purchase a Day Pass 

online

 through the Parking Portal. 

Kiosk lots: 

Students may pay the $2 hourly rate to park in the Union Lot, Marriott Library Lot, Business Lot or Student Life Center Lot. Kiosk lots are a great option for students who need to park on campus a few hours a day or week. Visit the kiosk machines located within these lots to begin a session. You may also pay for your parking session directly on your phone by scanning the QR code displayed on the kiosk machine and follow the prompted steps. 

PayByPhone stalls: 

Students may pay the $2 hourly rate to park in PayByPhone stalls located in several lots on campus. Parking in a PayByPhone stall is an excellent choice for students who are looking for hourly parking in various locations throughout the U. Download the 

PayByPhone

 app to find a stall and begin a session. 

Share a permit: You may share a parking permit with another student by linking multiple vehicles to one parking permit. Keep in mind, only one vehicle from the shared permit may park on campus at a time. Payment cannot be split between multiple accounts, meaning one individual must pay for shared permits. 
Visit the Short-Term & Visitor Parking page to learn more.
Campus Shuttles
The Campus Shuttles transports students to popular locations on campus, including the Union, residential areas, UTA bus stops and TRAX stations. This free service is available to all students. 
The Blue, Orange, and Circulator (previously known as the Night Route) shuttle routes will continue operating throughout the fall semester. Other shuttle routes serving lower campus, like the Red, Green, Purple and Union-TRAX will remain off the road until further notice. 
Download the TransLoc app or visit uofubus.com to track all shuttle locations live, view estimated arrival times, and find the nearest stops.
BICYCLES
Bicycling is a convenient, healthy and sustainable alternative to driving to campus. With designated safe routes on campus, cyclists and other active commuters can ride with ease. All cyclists must yield to pedestrians, ride at a slow speed and follow the university operating regulation for bicycles and other non-motorized riding devices.
The university offers free outdoor bicycle parking within 50 feet of almost every building. Cyclists are also welcome to utilize the secure bicycle lockers located at certain buildings and parking garages. Bicycles locked to anything other than bicycle racks will be impounded.
The Campus Bike Shop, located at 413 Campus Center Drive, is closed until further notice. Stay tuned for more information coming soon. 
OTHER WHEELS
Skateboards, e-boards and other wheeled devices, including rentable e-bikes and e-scooters, can operate on campus. However, riders must follow the local traffic laws and the university operating regulations for bicycles and other non-motorized riding devices. 
Outdoor parking for skateboards and personal scooters is available at the Student Life Center, Peterson Heritage Center and Kahlert Village. Rentable e-scooters and e-bikes must be parked adjacent to an outdoor bicycle rack.
WALKING
No matter how you commute to the university, you will walk on campus at some point. Visit the Campus Map to get walking directions to any buildings on campus. 
If you're new to the U, you'll notice that sidewalks are used by wheeled devices, including bicycles, scooters, skateboards and golf carts. As a pedestrian, you have the legal right of way, meaning every rider must yield to you. Be aware of your surroundings to avoid injuries to yourself or others.
Students who do not feel comfortable walking on campus may contact the university's police department to request a free courtesy escort to any location on campus. Call 801-585-COPS to request this service available 24/7.
If you have any questions about parking and other transportation options, call our Information Center at (801) 581-6415.