Commencement & Convocation Transportation Impacts
---
Graduation is a time to celebrate — not a time to worry about your commute to the U. Commencement and convocation attendees can save time and avoid stress by familiarizing themselves with the transportation impacts that will take place from May 4-7.
VEHICLE LANE CLOSURE
From May 4 at 5:00 a.m. to May 7 at 5:00 a.m., all westbound lanes on 500 South (from Guardsman Way to 1300 East) will be closed. There will be lane shifts on 500 South and Foothill Drive that will cause congestion and slower moving traffic. Be sure to plan your commutes to campus accordingly. 
PARKING FOR GRADUATES AND GUESTS
Graduates and guests may park on campus for free on during commencement and convocation ceremonies. Convocation attendees are highly encouraged to park their cars in the designated lots assigned to the venue they're visiting to provide adequate parking for everyone. From here, guests may ride the university campus shuttle or walk to the venues. Visit uofubus.com to track shuttles live, find the nearest stop, and view estimated arrival times, or visit the Campus Map to get walking directions. 
Please be aware the Stadium Lot will not be available from May 4 to May 7 due to another scheduled event on campus. 
The maps below highlight the designated parking lots for commencement and convocation ceremony venues, and the nearest campus shuttle stops. 
Huntsman Center Commencement Parking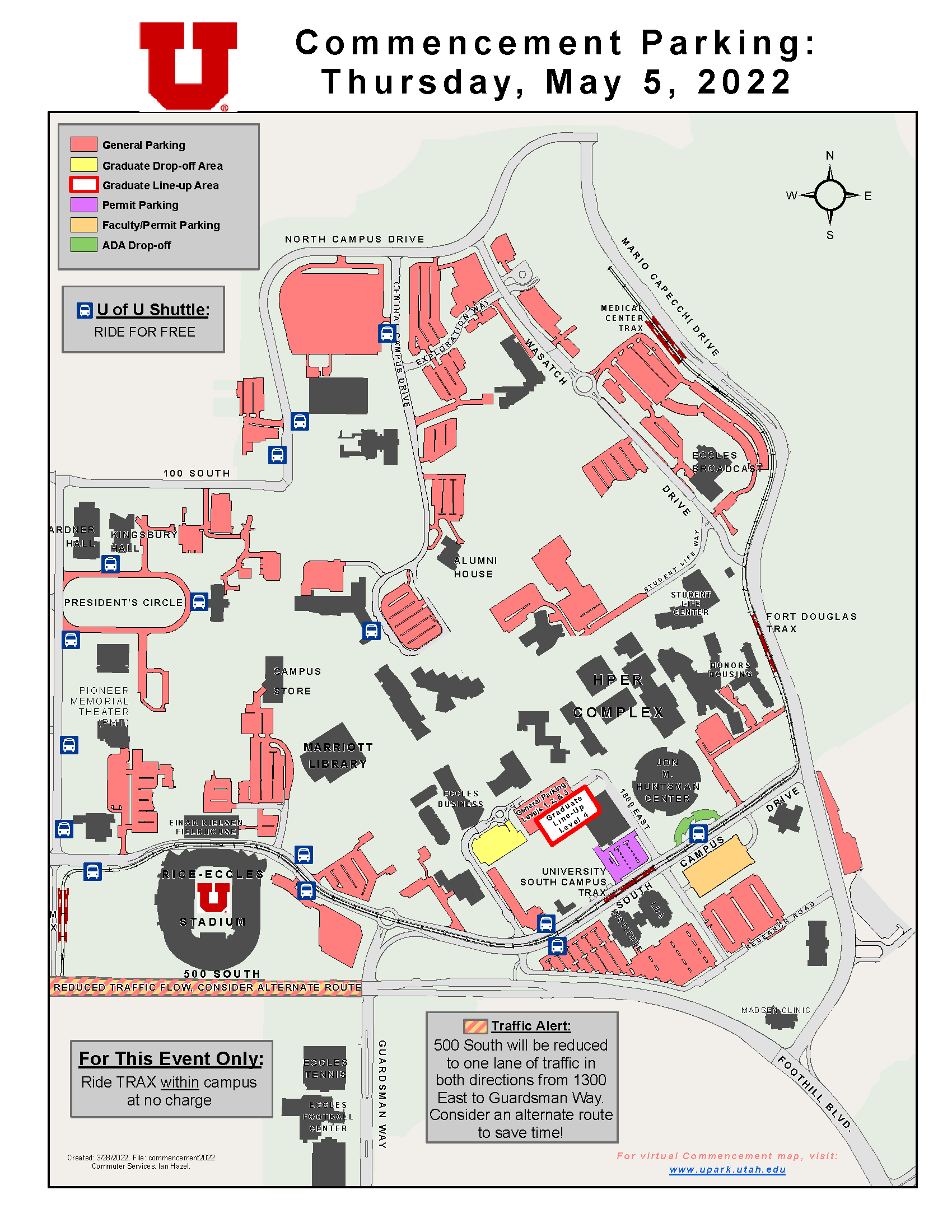 Huntsman Center Convocation Parking: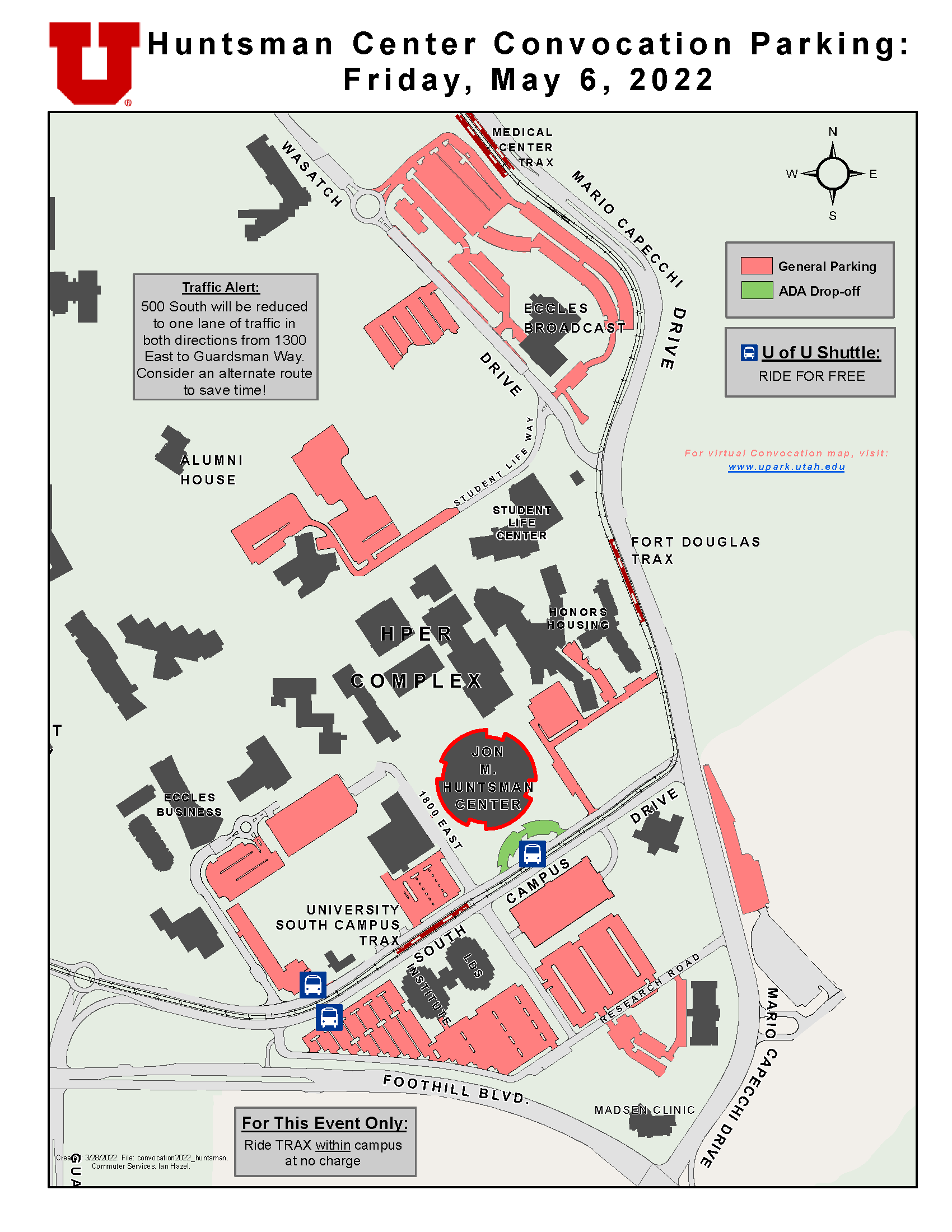 Kingsbury Hall Convocation Parking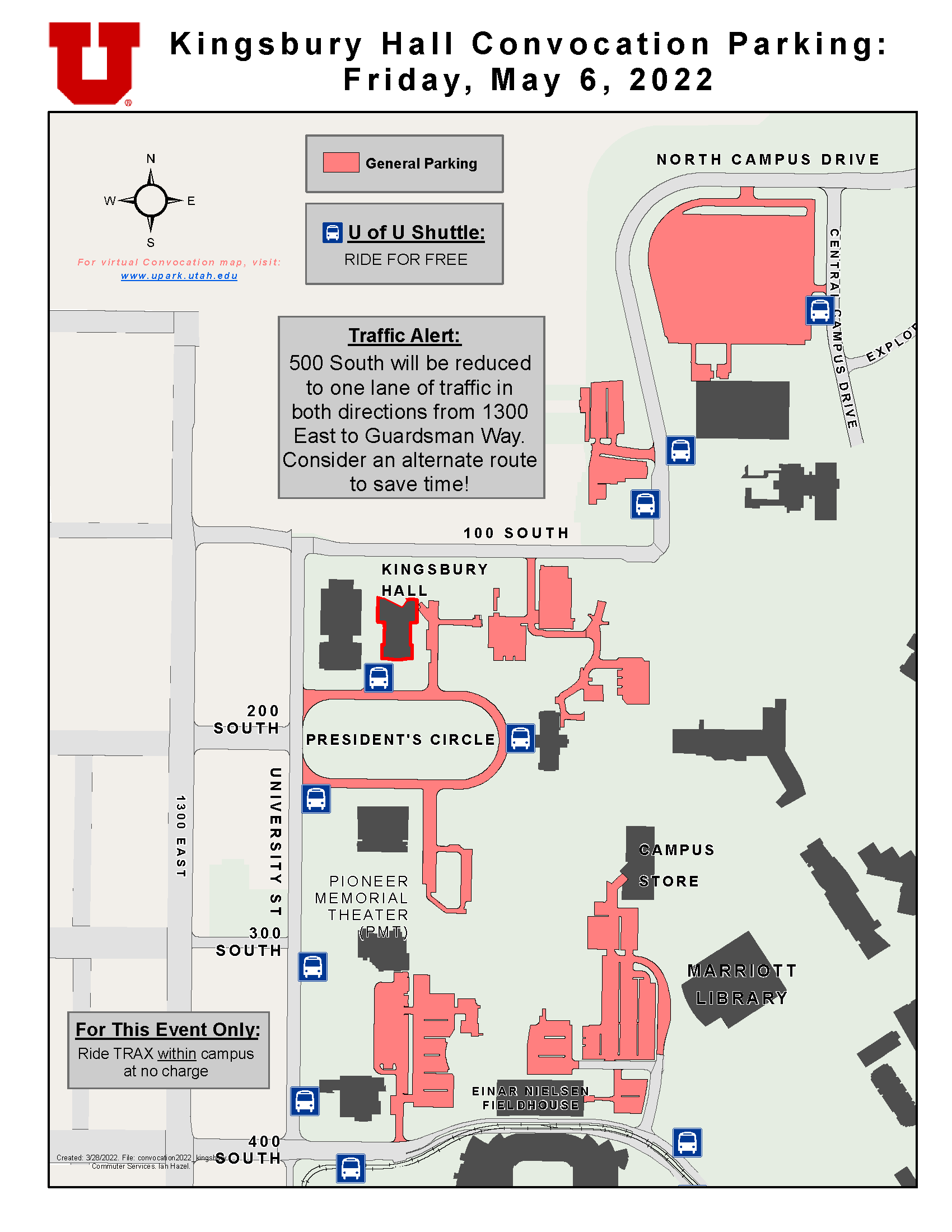 Student Union Convocation Parking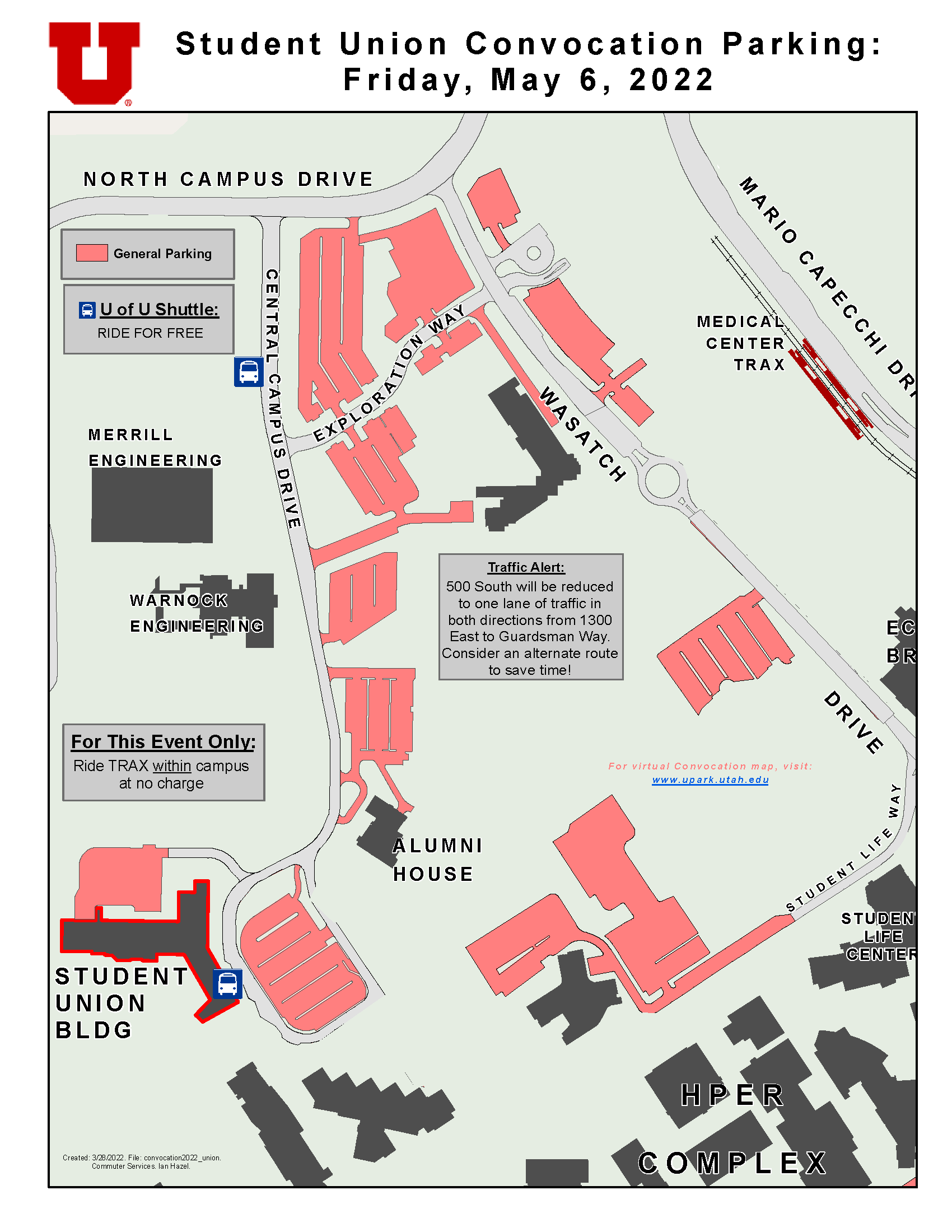 CAMPUS SHUTTLES
Attendees are welcome to ride the Campus Shuttles for free. Two shuttle routes will be in service to transport guests directly to the Huntsman Center and Kingsbury. Guests may ride the shuttle from the Eccles Broadcast Lot to the Huntsman Center, and from the Merrill Engineering Lot to Kingsbury Hall. Visit uofubus.com to track all shuttle routes live.
PUBLIC TRANSIT
Graduates and guests attending commencement and convocations ceremonies can easily avoid vehicle parking stresses and traffic delays by riding the UTA TRAX to campus. The Red Line stops at the Stadium Station, approximately a 10-minute walk from Kingsbury Hall, and the South Campus Station located adjacent to the Huntsman Center. Additionally, several UTA bus routes stop throughout campus. Visit rideuta.com to plan your trip.
BICYCLE PARKING
All attendees and faculty, staff and students may park their bicycles on campus for free. To find indoor and outdoor bicycle parking near your destination, select the 'Transportation' menu on the Campus Map.
QUESTIONS?
For more parking and transportation information, contact Commuter Services at 801-581-6415 Monday through Friday from 8 a.m. to 4:30 p.m.