BICYCLING at the U
---
Bicycling is a convenient, healthy, and sustainable way to arrive at your campus destination. Bicycling as a primary form of transportation helps reduce our negative impact on the environment, is an excellent form of exercise, and could save money that would otherwise be spent on gas and vehicle parking.
The University of Utah is a Gold Bicycle Friendly University ranked by the League of American Bicyclists.
For questions about bicycling research, infrastructure, and programs, contact Ginger Cannon.
The Campus Bike Shop is a full-service repair shop located at 413 Campus Center Drive, across the street from the Utah Museum of Fine Arts.  We offer all regular service and maintenance services at affordable prices to students and staff. If there is something we can't do for you we have relationships with nearby bike shops that offer more specialized services. Call (801) 581-6415 to make an appointment or stop by during our hours of operation.
Hours
Monday / Wednesday / Friday:  8 a.m. - 12 p.m.
Tuesday / Thursday:  12 p.m. - 4 p.m.
Appointment
Call (801) 581-6415 to book an appointment.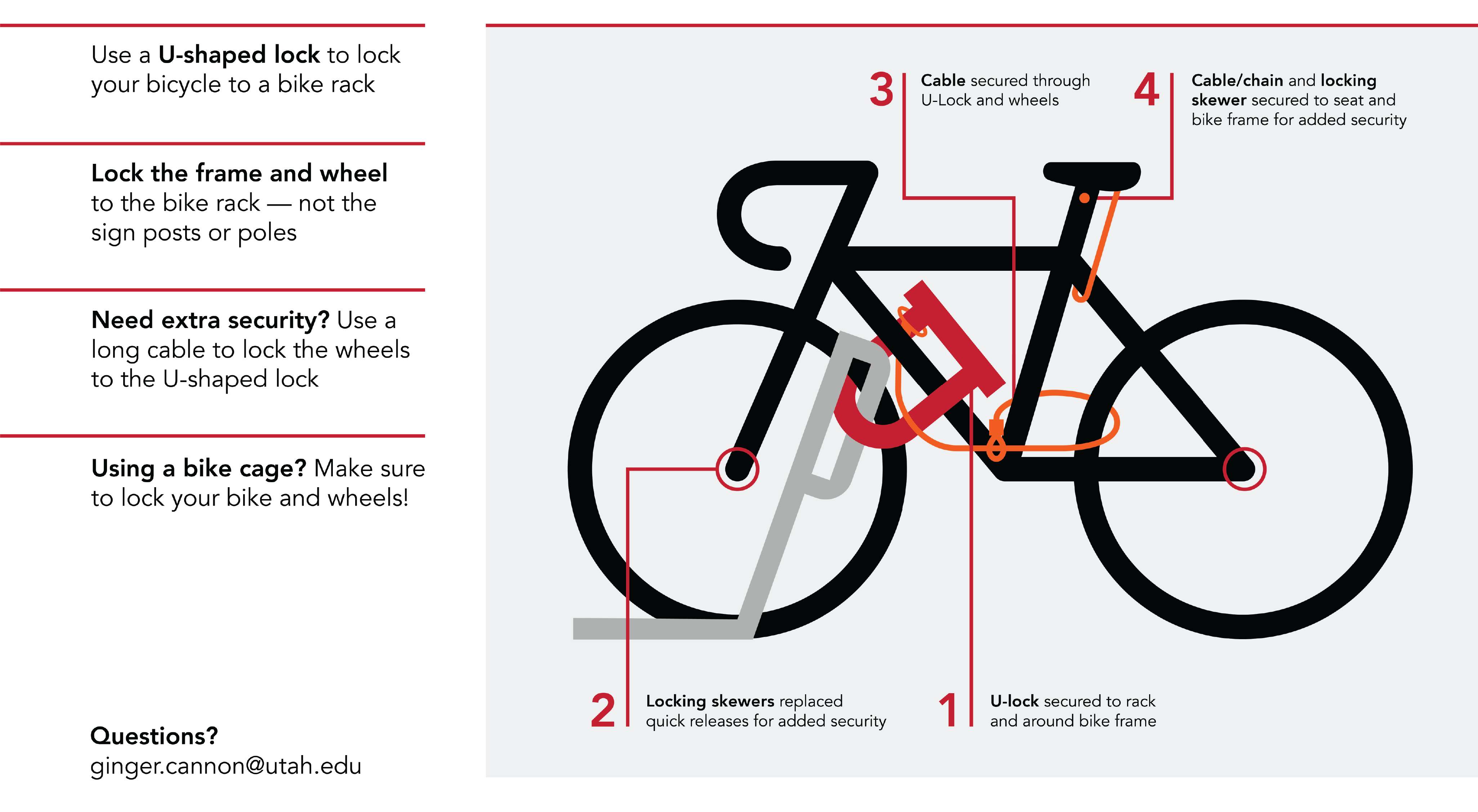 Obey the regulations outlined in Policy 3-232 when operating a bicycle, skateboard, rollerskate, scooter or any other non-motorized riding device on campus.
Bicycles locked improperly can be targets for theft.
Use a U-lock and cable to secure your bike to the bike rack.
Register your bike online at the Bike Index. This database makes stolen bikes harder to sell and easier to recover by storing information that others can use to contact you.
The University Police offer free kryptonite U-locks through the Lock It or Lose It program during Earth Week (April) and Bike Week (September).
Call 801-581-6415 to provide report an abandoned bicycle or lock. The abandoned bike or bike lock will receive a tag and then be impounded per policy guidelines.
Call 801-585-COPS to file a report with the University police.